The third China-Japan high-level economic dialogue ended in Beijing on the 28th of this month. Some experts pointed out that compared with the previous two times, the dialogue is gradually shifting from "retreat" to "pragmatic." It is reported that the dialogue between China and Japan has reached six intergovernmental and inter-departmental memoranda and a non-governmental cooperation agreement in the fields of energy conservation, environmental protection, logistics and distribution, and manufacturing information industry.

The high-level dialogue between China and Japan, which opened on the eve of the global economic crisis, has attracted the attention of many foreign media. The rise of China's labor costs has become one of the focuses of all parties. The Japanese side said in the dialogue that the increasingly frequent labor disputes have affected the operation of some Japanese companies in China.

A human resources expert pointed out that the labor-management conflict caused by the general rise in salary levels does not only appear in Japanese-funded enterprises. The data shows that in the year of this year, more than 20 provinces and cities in Beijing, Henan, Shenzhen, Shaanxi, Anhui, Hainan and other countries have gradually raised the minimum wage, with an average increase of more than 20%.

"In the context of China's industrial upgrading, the rise in labor costs is an inevitable trend." Mei Xinyu, an expert at the International Trade and Economic Cooperation Research Institute of the Ministry of Commerce, said that he also believes that through relevant regulations and management systems, companies can handle employee benefits and Harmony and unity of labor relations. "On the other hand, foreign-invested companies in China can also reduce costs by increasing localization and reducing the number of employees abroad."

In the dialogue, the Japanese side once again threw out the "rare earth problem" and demanded that China relax the export restrictions on rare earth. Some Japanese media said that due to the rising import prices of rare earths, Japan has limited Japan's production capacity for computer parts, hybrid vehicles and some products that require rare earth as an important raw material.

In response, the relevant person in charge of the Ministry of Commerce responded that due to the large-scale extraction of rare earths under the existing conditions, the ecological environment has been greatly damaged and destroyed. Therefore, China has imposed restrictions on the production, mining and trade of rare earths. In line with WTO rules. China's rare earth exports must promote the economy as well as comprehensive factors such as environmental protection and national security.

"For resource products such as rare earths, China can propose its own industrial development strategy and have certain international market pricing rights." Mei Xinyu said.

Decorative Mantel Pieces provide you warmth and atmosphere, the decoration is extremely classy.

Fireplace Mantels are purely decorative and can only be installed in combination with an electric fireplace

You may paint Decorative Mantel Pieces(Home Decorative Fireplace Mantel,Hand Carved Mantel Pieces, Natural Marble Mantel ,PU Fireplace,Fireplace Mantels) according to the color of your funitures or wall, other it liks a table, you may place other decoration on Decorative Mantel Pieces.

Features of the Fireplace Mantels:
1.Light weight and easy installation.
2.Water-repellent, heat-insulated, fire-resistant.
3.Various patterns,design and sizes available.


Our Service:
1. Factory direct sale with excellent quality, reasonable price and first-class service.
2. Timely delivery to every corner of the world.
3. Strong supply capacity, high-tech skills and advanced equipment can surely meet customers` requirement.
4. Launching new designs for each category every year.
5. Exquisite workmanship. All products 100% inspected.
6. Preferential freight by Famous shipping company.
7. Excellent after-sales service.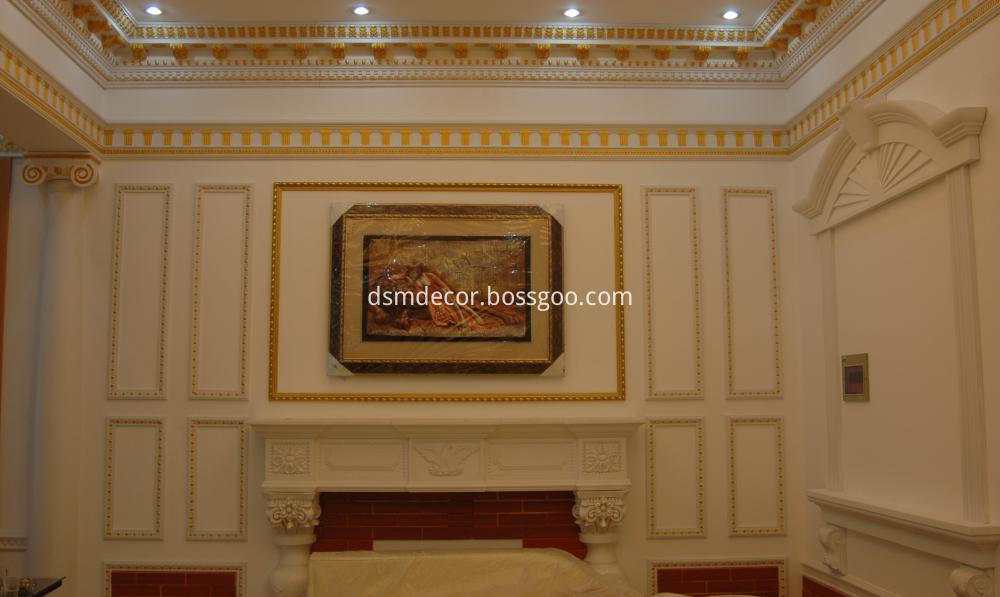 Polyurethane Fireplace Mantels

Decorative Mantel Pieces,Home Decorative Fireplace Mantel,Hand Carved Mantel Pieces,Natural Marble Mantel,PU Fireplace Mantels,Fireplace Mantels

Huizhou Dingshengmei Building Materials Co.,Ltd. , http://www.dsmdecor.com